Robotics and 3D printing in restorative dentistry begins here
Manufacture precise restorations using a system that is simple to add to your existing set of dentists tools.
The Rayo 3D method provides

easy-to-integrate, automated dental filling manufacturing

that

improves patient experience, dental filling quality,

and

cost-efficiency.

Rayo 3D Software
Seamless integration & automated data processing
Receive scanning and restoration design from the scanner
Construct the filling design and instructions for the tailored printer
Rayo 3D printer
Restoration fabrication and curing — all outside the patient's mouth
Dental filling material injection
Hardening
Minimal material waste
An opportunity for dentists around the world
Affordable, high-quality treatment without high investment costs
Our dental filling technology is simple and affordable for any dentist, anywhere. Producing a restoration with our method is more cost-effective than other indirect restorations.
It enables the highest quality of restorative dentistry to be practiced anywhere with our tailored printer, which uses composite filling materials already present at dental clinics.
Offer higher-quality dental services and reduce repair needs
Minimize the gap between tooth and filling by compensating for the polymerization shrinkage of the restoration.
Our method provides optimal performance of the restoration with minimal need for repair and replacement.
Offer a superior service with flexibility and better margins
Being able to produce several restorations / fillings simultaneously without increasing manufacturing time means an improved treatment time and comfortable experience for your patients.
Increasing quality of treatment while having a lower cost per filling enables you to increase your margins for each treatment.
How will you take advantage of the new free time while the dental filling is manufactured?
Restorative dentistry – Transformed by modern technology
Precise fit
Precise fit and unique combination of durability and elasticity enable optimal function in occlusion.
Reduced need for repair or replacement of composite restorations
Dentists' working time will be used more efficiently when the restorations have longer lifespan.
Competitive costs compared to traditional premium methods
Our method offers better accuracy for a fraction of the costs of milling method.
Fits your current setup without need for major investments
All you need is an open-source dental scanner and a computer. The rest of our 3D printing solution will sit nicely on your desk.
The equipment can use existing composite filling materials you already have. No need to buy special filling material.
Better cost-efficiency
The larger and more complicated the restoration, the more notable the cost benefits of our solution become.
Performing the whole restorative procedure on one patient visit saves time for everyone.
Safer and more comfortable
Minimum number of processing steps and less processing residues inside the mouth.
A straightforward process
Preparing the tooth
The dentist prepares the tooth for filling as usual.
Digital imaging of the tooth
Our special software receives the design of the filling from the dental scanner software and automatically creates a design of the filling for the tailored printer.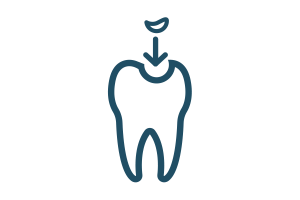 3D printing of the filling
Our tailored printer prints the filling using materials you already have. The filling is hardened during the process.
The cost-effective, highly precise dental filling is now ready to be fixed.
Bonding the filling into the tooth
With a precise filling, the last step is simple and straightforward.
Software that integrates into your equipment
We developed the Rayo 3D software to serve as the point of integration to existing dental equipment. The software reads the data from a dental scanner.
All this and more is used to construct a mould design for the Rayo 3D printer and filling instructions for the dental robot.
Precise filling
With precise printing, there is no wasted material. The robot can use dental filling materials you already have.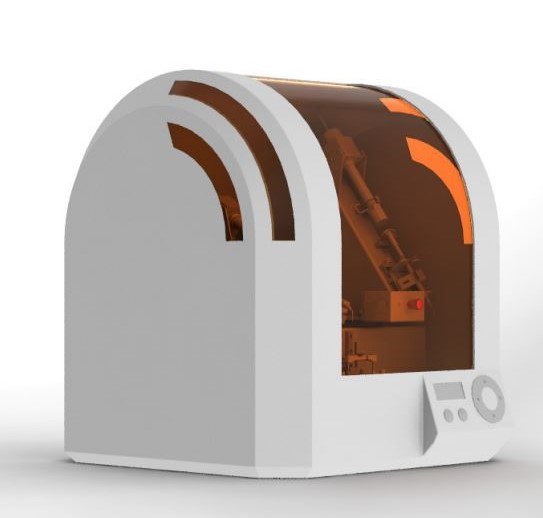 Frequently asked questions and answers
Only resin composites are supported for now.
Aside from the Rayo 3D printer, you don't need to buy anything else if you already have a suitable oral scanner.
The whole idea behind Rayo 3D is to make initial costs low enough for all dentists, anywhere.
Making dental fillings with our method is faster than traditional direct method and costs competitive with other indirect methods.
Yes! Our dental robot is able to take full advantage of existing composite filling materials at your disposal.
Got more questions?